THIS PAGE IS PROVIDED TO THOSE WHO WOULD LIKE TO MAKE A GIFT TO INTEGRATED RECOVERY FOUNDATION IN MEMORY OF DR. KRIS KLEM
Dr. Kristopher "Kris" Klem (March 12, 1978 - March 26, 2018) was a friend of Integrated Recovery Foundation and we are deeply saddened to learn of his passing. In lieu of flowers, the family asks that you consider a gift to Integrated Recovery Foundation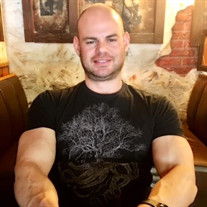 You may make a gift via credit card above or, if you prefer to mail a check made payable to
"Integrated Recovery Foundation,"
please mail your check to 25 Floramar, Rancho Santa Margarita, CA 92688

Obituary for Dr. Kristopher "Kris" Klem
Source (http://www.crawfordfuneralservice.com/obituaries/Kristopher-Klem/#!/Obituary)
Dr. Kristopher "Kris" Klem was born on March 12, 1978 to S. Keith and Vicki Klem in Albany, Georgia. As a child, Kris grew up in Pineville, Louisiana, where he became the youngest person to achieve a Black Belt in the state, at the age of 10. He was a very smart, bright, strong-willed kid, that was very determined and stubborn at times. In 1992, when Kris was in the 8th grade, he and his family moved to Oklahoma City, Oklahoma.
Kris went on to attend Putnam City North High School, where he excelled as a lifter and body builder. Though he didn't play football, many football players looked up to Kris and used his workout regime. Kris won Mr. Teen Oklahoma at the age of 19 for body building, and was proud of that achievement. Kris was very athletic, very bright, and was good at any physical activity that he tried. He went on to attend the University of Central Oklahoma for a brief time, before life got a little chaotic for he and his family. In his early 20's, Kris began his battle with substance abuse.
At the age of 22, the drug addiction disease had taken over Kris' life. It affected all his relationships, especially the one with his family. It was at that point that Kris and his family knew he needed help, that it wasn't something that he could overcome himself. In 2000, his family took him to a drug rehabilitation center in Texas. Shortly thereafter, Kris moved to Riverside, California to a rehabilitation facility, named "The Ranch", where he met Dr. Ron Gellis.
Dr. Gellis worked with Kris, and was the driving force to encourage Kris to make the decision to move toward sobriety. It was at this time, that Kris realized that he must achieve sobriety, and only he had the power to change. He recognized that he had to change in order for him to live. After almost a 2-year battle with the disease, Kris had reached sobriety, beginning the next chapter of his life, a new man with a new mindset.
In March of 2002, Kris was laying on the couch watching tv when he decided he needed to do more with his life. He was inspired after the 9/11 attacks on America, and decided to join the United States Navy, in March of 2002. Kris bravely served for more than 5 years, and was honorably discharged. He quickly moved up in the ranks because he was brilliant and determined to continue the trend of establishing his career and getting his life in order, during his time in the Navy.
Upon serving in the Navy, Kris decided to go back to school to become a doctor. He attended Chapman University for a few years, and then was accepted into UC Davis Medical School in 2010. Kris excelled during his time in school. When he wasn't studying or doing research, he was tutoring other medical students. He excelled in medical school, graduating the top of his class, with honors, in 2014. On "Match Day," Kris was matched to Johns Hopkins, a prestigious accomplishment. Some of the most recognized medical schools in the country wanted Dr. Kris, because they knew the type of doctor he would become. He ultimately decided on Johns Hopkins School of Medicine and started his residency.
Dr. Kris had a calm demeanor about him, and was very engaged with his colleagues and patients. He could digest complex issues with no problem. He would think outside of the box to help patients, sometimes going against the advice of his peers. Dr. Kris always loved and cared for his patients like they were a part of his family. He was known to be kind, compassionate, thoughtful and sincere to all his patients.
He met the love of his life, Maria Javier, and they were engaged to be married in February 2018. Kris and Maria shared many great memories together. Maria is considered "Saint Maria" by Kris' family. She was his support through good times and troubled times and was there for him when his disease of drug addiction came back in October of 2016. Dr. Kris was in his 3rd year of residency when he had a relapse, and his disease took over his life again. Maria and his family did everything they could in their power to help Dr. Kris, but it was something out of their control. The disease ultimately took his life.
On March 26, 2018 Dr. Kris Klem passed away. He was the beloved fiancé of Maria Javier; devoted son of S. Keith Klem and Vicki Klem of Oklahoma City, OK; dear brother of Matthew "Matt" Klem and his wife Kallye of Edmond, OK; cherished uncle of Shelby and Carter Klem. He is also survived by his aunts and uncles: Lana and Jim McKee, Jill and Marcus Bradford, Terri and Gary White, Jerry and Suzi McKee; cousin, Parker McKee; cousin, Mika and Matt Daniels and their children: Brealynn, Dylan and Judah Daniels; cousin Clay Bradford and his wife, Bailey; great aunt and uncle, Rosie and Harvey Stewart; uncle and aunt, Doug and Jayne Klem; cousin, Courtney Klem; cousin, Kimberlea and her husband Paul Chabot; uncle and aunt, Cal and Barbara Klem; cousin, Kerri and her husband Jeremy Epling; cousin, Andrew Klem; cousin, Kristen and her husband Matt Clements and his beloved cat Zoe.
Please join the family as a memorial service to celebrate the life of Dr. Kris will be held at 10 a.m. on Saturday, April 28, 2018 at Crawford Family Funeral Service, 610 NW 178th St. Edmond, OK 73012. The family will be receiving friends at a reception following the service.
The family would like to recognize and thank Dr. Ron Gellis with Integrated Recovery Foundation, for his compassion, willingness to serve, his love for Kris, and his unwavering desire to be available to the family over the past 20 years.
In lieu of flowers, memorial contributions may be made to Integrated Recovery Foundation, 25 Floramar, Rancho Santa Margarita, California, 92688 (
www.irf22.org
).
Memorial contributions may also be made to Johns Hopkins University, c/o Kristin Ruth (please include a note stating donations are in memory of Kristopher Klem to benefit RLS Research), 550 N. Broadway, suite 731, Baltimore, MD 21205.
DONATE
| | | |
| --- | --- | --- |
| | | |
| 322 | 7 | 7% |
| Days Left | Believers | Funded |
Campaign ends 06/05/2019 at 09:49 PM (EDT)